Lazy Susans

Item #: DSLS6265-22W
D shaped 5 tier pantry system 22" diameter
D shaped lazy susan to fit in 24" deep pantry cabinets. The five 22" trays rotate independently and self locate within 30 degrees of proper resting position. Adjustable to fit in pantry cabinets with 56" to 62" internal height. 32 pound nominal load per shelf.
---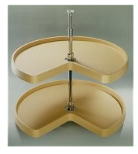 Kidney shaped two tier 18". 24". 28"
Features independent shelf rotation. Exclusive cantilevered ribbing allows maximum support and deflection. Shelves can be relocated on post by loosening locking screws. Provides 15/16" clearance between the cabinet floor and the bottom shelf. Acetyl polymer bushings provide self lubricating bearing areas and quiet operation. Gravity centering positioned assembly provides centering from either side of the original position. Fits cabinets from 26" to 32" high. Includes two shelves, telescoping center shaft, mounting hardware and screws.
Item #: KSLS6472-18
18" White & Almond
Item #: KSLS6472-24
24" White & Almond
Item #: KSLS6472-28
28" White, Almond & Silver
Item #: KSLS6472-32
32" White & Almond

---

Pie cut for door mount 24", 28" diameter
Offers polymer components for quieter action. Single screw is used for adjustment of the doors with full 360 degree rotating alignment. Height adjustment is a snap with the thumb and forefinger with the height adjusting locking clip. Telescoping hardware is 24" long and extends to 31", or can be cut to fit smaller openings. Features 1" heavy wall tubing and engineered die cast and polymer components. Includes shelves, pivot, cam, telescoping post, hardware and instructions
Item #: KSLS6472-24
24" White & Almond
Item #: PSLS6942-28
28" White, Almond & Silver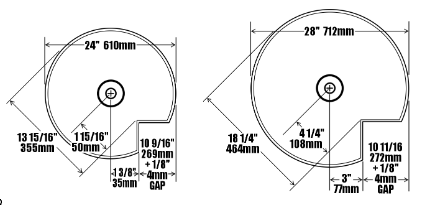 ---

Half moon blind corner Lazy Susans
Strongest blind corner lazy susan unit available. Polymer bushings surround all rotating bearing areas for super quiet perfor man ce. Two mounting brackets are included to accommodate both frame and frame less cabinetry. Self closing roller design provides positi ve action positioning in both the open and closed positions.
One pivot, one pivot and slide out
13 1/4" door opening Item #: BC6862-31 White & Almond
16 1/8" door opening Item #: BC6862-33 White
19 1/4" door opening Item #: BC6862-39 White
Two shelf, both pivot and slide
13 1/4" door opening Item #: BC6882-31 White & Almond
16 1/8" door opening Item #: BC6882-33 White & Almond
19 1/4" door opening Item #: BC6882-39 White & Almond