Closet Organizers and Home Storage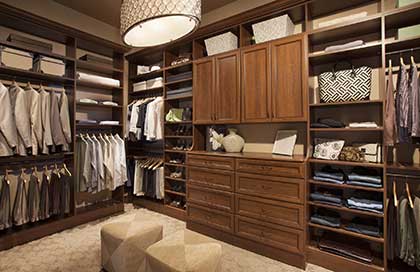 Every closet design, be it a master custom closet, pantry, kid's closet or simply a closet makeover is based on your own particular needs.
Home organization, and closet organizers in particular, has become such a mainstay in American homes that it has become the top-most asked for amenity in key living spaces as reported by Professional Builders Magazine for new home buyers.
A professionally designed closet system, including stand alone wardrobes, make life easier by reducing clutter and therefore reducing the stress associated with not being able to immediately find what you want. Our closet organizers are not only fully functional, but beautiful as well. freedomRail from Organized Living is our award winning system that is completely adjustable and customizable for easy change as your lifestyle changes.
Since 1981 STORAGE CONCEPTS INC. has been the innovator and original custom closet company in the Metro and surrounding region. We have a number of home storage systems priced for every need and budget, we can help you too!